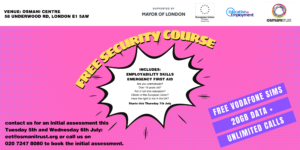 We are now assessing people 19+ receiving Universal Credit for our next FREE security training NOW!
Course starts this Thurs 7th July.
Interested learners must complete an assessment in English and Maths taking no longer than 45mins to complete.
During the assessment session, we will check applicants for eligibility. Please ensure applicants can provide proof of unemployment status and UK / EU citizenship.
If you know anyone that is interested, please ask him/her to contact us via email at eet@osmanitrust.org or call us on 020 7247 8080 to book the initial assessment.
Free Vodafone 20GB SIMS available with unlimited calls available to successful completion of the course.