Reason for award: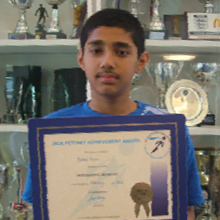 Ruhul has been awarded for the hard work he has put in week in week out to improve his goal keeping performance and ability. Ruhul is not the most natural of goal keepers, lacked in awareness and ming, however his determinaon has paid off as he has now earned his posion as the first choice for the team.
£200 grant has been used for:
Ruhul has decided to take his team mates to Lee Valley Ice Rink followed by a meal.