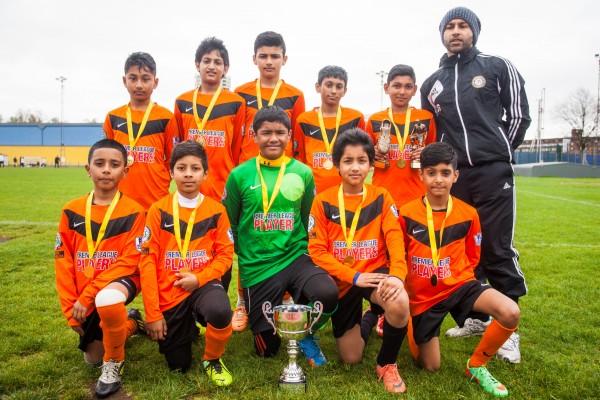 FC Osmani swept up their 4th consecutive competition this season by winning the 2014 Mayor's Cup for the under 12s age category. The tournament took place over two weekends with the final being played on the 6th of April.
FC Osmani played Vallance FC in a hard fought final, eventually winning 2-0. They showed tremendous spirit, resilience and determination over the whole tournament overcoming the likes of Westward Boys and Victoria Park in the group and knock out stages.
Zubair Miah of FC Osmani was awarded Golden boot as the tournament's top goal scorer and received the Man of the Match award for the Cup Final.
The Mayor's Cup was the icing on the cake with a clean sweep this season for FC Osmani having already won the Tower Hamlets Youth League, League Cup and the BFA Cup.
Imrul Gazi, manager/coach of FC Osmani said "the boys have had an outstanding season and it was NOT a coincidence! The quadruple has come as a result of 2 to 3 years of regular training and commitment from players and parents alike. I can honestly say this FC Osmani group of players is a pleasure to manage and they are a credit to their families.
If we can keep this bunch together over the coming years, there will only be more success to come. They go into every competition as favourites now and yet they are able to deliver. I am very proud of each and every one of the boys. The future of East End Football is looking very bright."