The girls sporting activities take place in a completely segregated environment due to the cultural needs of some of the girls taking part in the sessions. This has been one of the biggest successes of Healthy Futures over the past few years as we have attracted girls in the sessions that would otherwise not be attracted due to cultural and religious barriers.
Healthy Futures is keen to play its part in providing platforms and opportunities for all types of people to take part in sporting activities. Sports can be played for enjoyment, for health, for fitness, or to just simply get things off your chest. Whatever the reason, it needs to conform to the environment that different people are comfortable with. This policy of understanding and tailoring according to the needs of a local community has engaged and nourished the talent of young girls who have thrived in the sporting activities they have taken part in.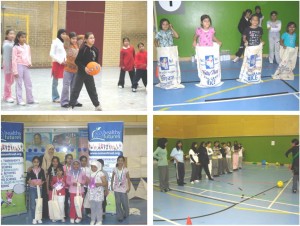 Girls Activities Timetable.
Badminton    Osmani Sports Hall  Saturdays   14:00 – 15:00
Football        Osmani Sports Hall  Saturdays   15:00 – 16:00
Basketball    Osmani Sports Hall  Thursdays  18:30 – 20:00
Taekwondo   Osmani Sports Hall  Sundays     15:00 – 17:00